There I Go Again: How I Came to Be Mr. Feeny, John Adams, Dr. Craig, KITT, and Many Others


by William Daniels

My rating: 5 / 5
Genre: Autobiography
I don't normally put GIFs in my reviews, but it had to be done.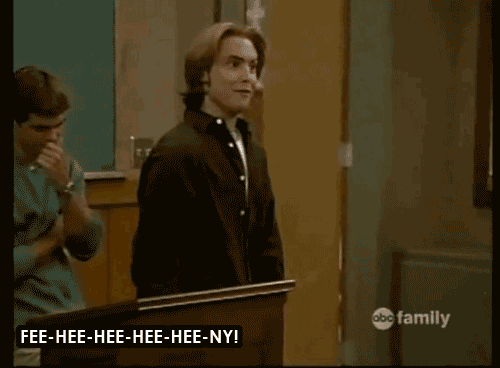 The long sub-title sums up what this book is about quite nicely. The way Mr. Daniels describes it, he sort of "fell" into show business, starting with the insistence of his mother, and just never could find his way out of it, not that he tried very hard. Eventually he came to realize that it was what he wanted to be doing. In this book, he tells the story of his most iconic roles, and everything in between–how he came to have them, and even what it was like to play them.
My interest in this book initially came from my love for Boy Meets World. I was 11 when that show first aired, which pretty much made me the same age as the main characters. My husband and I have quoted certain lines from the show to each other for so many years that our kids do it now too (and have both watched at least some of the show themselves, and my daughter loves Girl Meets World). Anyway, all that to say, Mr. Feeny is near and dear to my heart. Now I know that the man who plays Mr. Feeny (yes, present tense, because he'll always be Mr. Feeny to me) is a real person and has faced some real struggles in his life, which has only deepened my appreciation of William Daniels.
Truth be told, I don't know much about the rest of the roles he has played. I've never seen Knight Rider, 1776, or St. Elsewhere. And I did wonder if I would be lost or uninterested while reading most of this book. I wasn't. Maybe a little, when he talked about other actors and actresses he worked with at different times, producers, directors, etc. But not enough to cause a lack of enjoyment in or understanding of the book.
My only difficulty in reading the book was due to the writing itself; a couple of times the stories left me confused because it seemed like it was missing just another line or two of explanation before moving on. The book wasn't published by a big-name company (which surprises me, but kind of goes right along with how Daniels describes himself as never being a "big star," while being recognizable as the characters he's played), and I wonder if most of the people who edited or proofread it were close to Daniels, knew his stories or life well enough to not be confused by a slight lack of explanation. Or maybe it's just me.
I am so glad that I read this book. And the chapter about Boy Meets World was pretty much what I would have wanted it to be and made me tear up just a little. I would suggest that if you know William Daniels from any of his roles, or are simply interested in memoirs of celebrities, you check out this autobiography.
Find out more about There I Go Again
If you've read this book, or read it in the future, feel free to let me know what you think!